GROUP TOURS
Group Programs
The museum offers a variety of programs for many different groups! Bring students for an educational and immersive fieldtrip that fulfills Florida State Standards or gather members from a community organization for a unique outing. Programs can be tailored to meet your group's particular needs and interests.
Learn more about planning your visit here.
For more information, contact Alyssa Boge, Education Coordinator at AlyssaBoge@semtribe.com or 863-902-1113 x12225.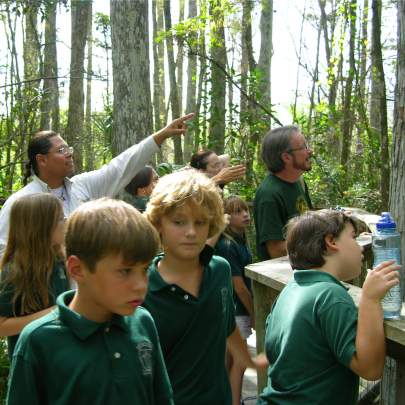 Pick Your Program!
Design your day by choosing from the following activities. Our most popular option includes an orientation film, gallery tour, and boardwalk tour. Craft activities, a game, or wildlife demonstration may be added as well for an especially interactive visit.
You may also wish to schedule time for lunch. The museum offers picnic tables if you would like to bring your own food or you may consider eating at one of the dining establishments located near the museum.
Consider visiting both the Ah-Tah-Thi-Ki Museum and Billie's Swamp Safari for a full day adventure. Please contact Billie Swamp Safari directly to schedule your visit to their attraction at 800-Go-Safari
Orientation Film (20 minutes) Learn about the Seminole story from Seminole people with our panaromic film We Seminoles. This short movie provides a great introduction to the history of the Seminole Tribe of Florida.
Gallery Tour (40 minutes-1 hour) Experience our diorama style exhibits with a guide who will offer insight into Seminole culture.
Boardwalk Tour (1 hour) Walking through our beautiful cypress dome, visitors will learn how the Seminole people used the plants and animals of the Everglades to survive and thrive. The trail is 1.05 miles long. Wheelchairs are available for those who may need them.

Craft Activity *students only (45 minutes) Create your own beadwork or build your own chickee in order to learn more about Seminole culture. Choose from a variety of activities and take your work home to remember your visit!

Game *students only (45 minutes) Learn and play a traditional Seminole game.

Wildlife Demonstration (45 minutes) Discover what types of wildlife you might encounter in the Everglades, featuring our very own hawks Ellen and Sable.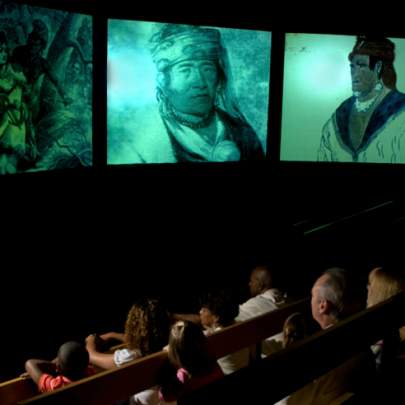 | Program | Students | General | Group Size |
| --- | --- | --- | --- |
| Self Guided Tour | $5 per student | $5 per person | unlimited |
| Guided Gallery or Boardwalk Tour | $5 per student | $10 per group member | Limit 100 |
| Guided Gallery Tour + Boardwalk Tour | $5 per student | $15 | Limit 100 |
| Gallery Tour + Boardwalk Tour + Craft | $8 per student | NA | Limit 100 |
| Gallery Tour + Boardwalk Tour + Craft + Game | $12 per student | NA | Limit 20 |
Wildlife Demonstrations are an additional $5/person
Groups of 10 or more students admits one chaperone free for every 10 students. Any additional chaperones are charged the group rate of $5.00 each.
Scout Programs!
In order to fulfill badge requirements, students can combine the Orientation Film, Gallery Tour, Boardwalk Tour, Craft Activity, and Game.


Click here for additional educational resources.
CONTACT INFORMATION
To schedule your visit to the Museum at Big Cypress, or for information regarding educational programs, please contact our Education Coordiantor Alyssa Boge at (877) 902-1113 Ext. 12225 or alyssaboge@semtribe.com.
More contact information can also be found on our Contact Us page