MUSEUM PROGRAMS
The Ah-Tah-Thi-Ki Museum offers programs for all ages that fulfill our mission of telling the Seminole story. We strive to provide life-long learning that informs and inspires families, students, and adults. Education and Outreach provide interactive learning experiences both on-site and off-site.
Seminole Discovery Days
July 22: Everglades Survival
Discover how the Seminoles survived and thrived in the swampy Everglades
September 9: Art at Ah-Tah-Thi-Ki
Get inspired by the work of Seminole artists currently on exhibit and create something of your own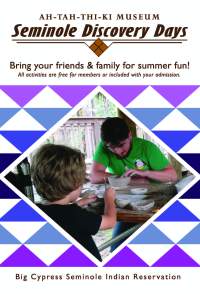 ¡Días de los Seminoles en Español!
el 16 de Julio
el 13 de Agosto
1pm-2pm: Una gira en la naturaleza de los Everglades
2pm-3pm: Conozca detalles de la cultura e historia de los Seminoles con un guia en nuestras galerías
3pm-4pm: Sea inspirado con nuestra exhibición de abolarios para crear sus propias artesanías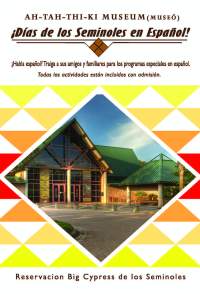 Radical Moves
Postponed! Check back soon for the rescheduled date
Join us for a lecture in the Museum Theater about the history of skate tricks by author Craig B. Snyder at 10am, followed by a demonstration at the Big Cypress Skateboard Park at 11:30!