Press Release
CONTACTS:
Melissa Sherman, Visitor Services and Development Manager, Ah-Tah-Thi-Ki Museum, melissasherman@semtribe.com
Chris Dirato, Bitner Group, (954) 703-7938, chris@bitnergroup.com
Ah-Tah-Thi-Ki Museum to Present Second Seminole Art Sale Event at Seminole Okalee Indian Village and Museum
HOLLYWOOD, Fla. (July 26, 2022) - The Seminole Tribe of Florida's Ah-Tah-Thi-Ki Museum is presenting the "Seminole Artist Experience Art Sale" event on Saturday, August 20, from 11 a.m. to 4 p.m. at the Seminole Okalee Indian Village and Museum in Hollywood at 3551 N State Road, Hollywood, Florida 33021.

The series began in 2019 and returns after an over two-year hiatus. Featuring contemporary Seminole artists Elgin Jumper, Samuel Tommie, Wilson Bowers, Tyler Tigertail, and other talented Seminoles, the event will also offer live demonstrations, an artist raffle for a chance to win a framed print by Jumper, and much more.
###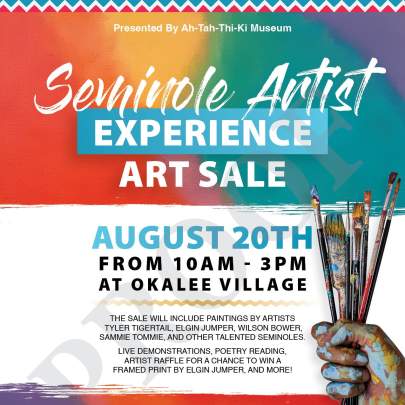 About Ah-Tah-Thi-Ki Museum
The Ah-Tah-Thi-Ki Museum opened in 1997 and is owned and operated by the Seminole Tribe of Florida. Situated in the Everglades on a 66-acre cypress dome on the Big Cypress Seminole Indian Reservation, the museum offers more than 5,000 square feet of gallery space. Exhibits feature rare artifacts and lifelike dioramas that depict Seminole life at the turn of the century. In 2009, the Museum became the first tribally governed museum to be accredited by the American Association of Museums. For more information, visit www.ahtahthiki.com and follow the museum on Facebook, Twitter, and Instagram. Ah-Tah-Thi-Ki Museum is located at 34725 W. Boundary Road, Clewiston, Florida.
About Seminole Okalee Indian Village
Seminole Okalee Indian Village introduces visitors to the unconquered spirit of the Seminole Indians in the heart of the Hollywood Seminole Indian reservation. This historic landmark features special Ah-Tah-Thi-Ki Museum exhibits within the gallery. The Seminole Village and Culture Camp on property features lush outdoor landscapes and meeting spaces adorned with Seminole thatch roof chickees. Seminole Okalee Indian Village is located at 3551 N. State Road 7, Hollywood, Florida.