Elgin Jumper Poet and Artist
As an Artist, Elgin Jumper has two centers of interest - Writing and Painting, Painting and Writing. He is of the Otter Clan and he resides on the Hollywood Seminole Indian Reservation. Elgin is the founder of "The Florida Indigenous Writer's Group" and "The Seminole Artist's Experience Art Sale." Elgin writes Poetry and Short Stories and is presently working on his first novel, Nightfall, a novelization of his first Poetry collection, by the same name. Elgin paints in Acrylics and in Oils, working in many styles and genres. He has been a published poet since 2006. He is also very much interested in Experimental Soundscapes, Theatre, Performance Art, and Live Painting. Elgin has been a full-time painter since 2004 and even worked for a time as a freelance reporter with The Seminole Tribune, where to this day, he still shares his artwork, articles, short stories, and poems.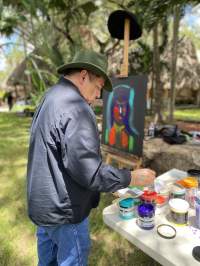 Tylor D. Tigertail Sr. Art Honoring Ancestors
So I started doing art in elementary school but really started to focus on it when I was about 16. I get my inspiration from the swamps I grew up in. I'm from Big Cypress born and raised. My grandfather Little Tigertail got me into wood working. So I just want to honor my ancestors and continue the traditions they had. The Seminoles fought and defeated the US government so I come from a warrior people so that's where I get my inspiration for my knives and axes. At the end of the day I just want to honor those who came before me. Stay classy soflo, Tylor D. Tigertail Sr.
Alyssa Osceola
Alyssa Osceola is a multimedia illustrator and Ringling College of Art and Design 2023 graduate. She is based in South Florida where she has lived her entire life. She uses variety of techniques to create artwork, and predominantly uses pen and ink. She is passionate about expressing her tribe's culture, exploring themes of horror, and portraying the human figure.
Alongside her traditional illustrations, she explores lyric and music writing, costuming, and special effects makeup. Witch Owl is her musical project that is currently in its early stages. She has created costuming and wardrobe for herself as a cosplayer and also for use in short films.