BOARDWALK
The Cypress Dome

Enjoy a walk through the Everglades at the Ah-Tah-Thi-Ki Museum on the Big Cypress Reservation. The museum provides a one mile raised boardwalk, which winds through a beautiful 60-acre cypress dome. There are multiple opportunities along the boardwalk to rest, enjoy the scenery, and learn more about the Seminole culture. Entry to the boardwalk is open daily from 9:00 am until 4:00 pm. As it does circle a natural cypress dome, it may be closed due to inclement weather or other natural causes beyond our control.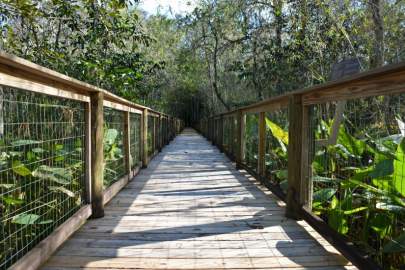 Clan Pavilion
About a quarter of the way through the right side of the boardwalk is the Clan Pavilion. There are eight clan panels, each representing one of the current Seminole clans: Panther, Wind, Bird, Otter, Bear, Snake, Big Town, and Deer. The panels tell basic background information about each clan and also feature drawings of clan animals by the Seminole artist Samuel Tommie.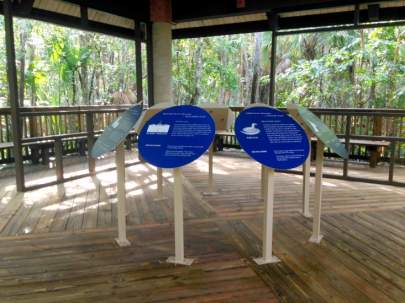 Ceremonial Grounds
At the midpoint of the boardwalk you can take a break at our re-created ceremonial grounds. These grounds are similar to those used as a traditional meeting place for political and religious events. At the center there is an open court for playing stickball, a traditional game for numerous tribes of the Southeast. The ceremonial grounds contain several chickees, or open-sided structures made from palmetto and cypress, used for a variety of purposes.
Bathrooms are located near the Ceremonial Grounds.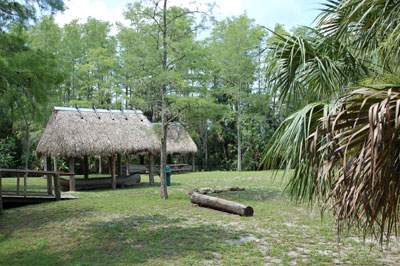 Seminole Village
A short distance from the ceremonial grounds is the Seminole Village. The village is a modern-day version of the Seminole tourist camps that were popular in the early to mid-20th century. Modern Seminole artists are often present and are more than happy to answer questions and demonstrate traditional arts and crafts. These crafts are also available for purchase. Due to circumstances beyond our control, such as inclement weather and Tribal holidays, villagers may not be present at all times.
Water is available at the Seminole Village.
Read about our award winning basket makers here!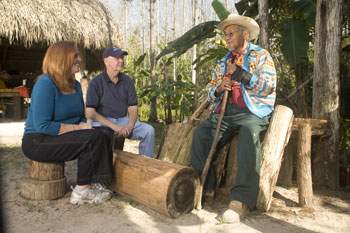 Hunting Camp
Near the end of the boardwalk there is a Hunting Camp, a depiction of the temporary camps set up by Seminoles during hunting season. The camp often features the pelts, plumes, and hides that were used and traded by the Seminoles.
Below are images captured by wildlife cameras in and around the Cypress Dome