"Fluent Poetry" Artworks by Elgin Jumper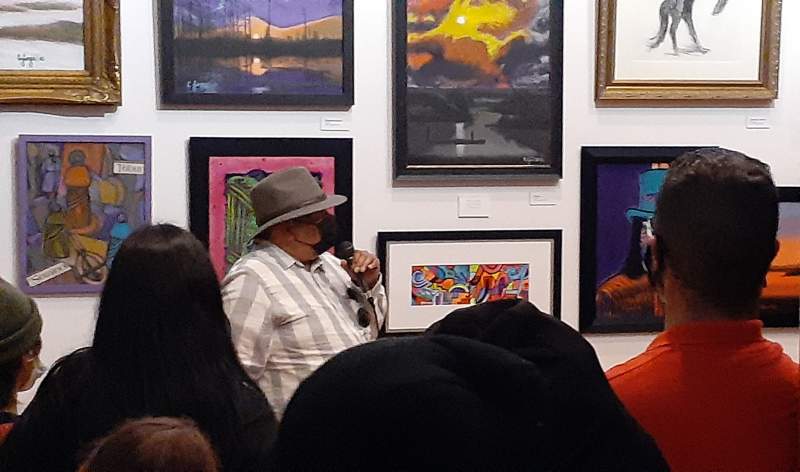 Ah-Tah-Thi-Ki Museum's current Mosaic Gallery exhibit showcases some of Elgin's newest pieces of art, the artist sat down for an interview to discuss his inspiration for these creations. The interview reflects the intentions of this exhibit to delineate Elgin's experimentation with new styles, as well as his interest in poetry and writing. The exhibit, titled "Fluent Poetry," is currently featured in the museum's Mosaic Gallery, and is expected to remain on display through May 2022. It showcases fourteen pieces, celebrating the poetic side of this Seminole artist. Visitors can expect to see examples of "Tonalism, Cubism, Fauvism, Graffiti Art, Abstract Art, Charcoal, and Mixed-media drawings." Elgin explained, "There is a visual poetry that takes place in these pieces, something that's unique and lyrical. If you know my life's poetry, you know Elgin."
Jumper's newest works, not only serve as visual stimulation for the masses, but should also be studied by other artists of all mediums. One can utilize this seasoned artist's creative process by studying art history, famous artists and putting a new twist on their works. However, that artistic journey unfolds, always "Incorporate the truth rather than fact" as Elgin would advise.
Elgin Jumper's newest exhibit showcases the artist's role as a true modern Renaissance man; a fitting homage to his muses. The Ah-Tah-Thi-Ki Museum welcomes visitors to join in this jubilation of "Fluent Poetry" which will give spectators a kaleidoscope of visual stimulation that embodies the past, present, and future styles of art as well as the promise of more to come!