What is the symbolism of the commemorative 2023 American Indigenous Arts Celebration logo Design: Manawanui (Steadfast / Resilient)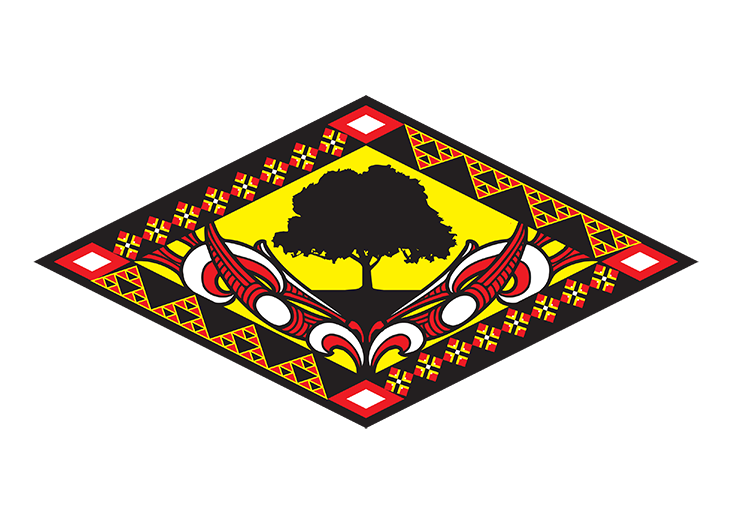 The commemorative 2023 American Indigenous Arts Celebration design draws upon cultural iconography of significance to the Seminole Tribe of Florida and to the tangata whenua (people of the land) of the Waikato Tainui region of Aotearoa (New Zealand). This weaving together of cultural symbolism represents the exchange of culture between indigenous peoples and the celebration of indigenous heritage at the AIAC.
The overall form of the design is that of a diamond. This represents 'Ngā Hau e Wha' (the four winds) with the four smaller diamonds at each point representing the four cardinal directions. This design element acknowledges all those that have travelled from the four winds/directions to join in celebration of the 2023 AIAC.
The color palette comprises of the Seminole Tribe of Florida medicine colors. White, Black, Red & Yellow are also the provincial colors of the Waikato Tainui region where the HAKA Māori Cultural Experience troupe is based.
Standing steadfast and resolute in the centre of the design is the historic Council Oak tree located in the Hollywood Reservation; under which successive generations of Seminole community leaders have met to protect the legal, economic, social and cultural sovereignty of the tribe.
Beneath the Council Oak tree are two 'Manaia' figures – one on the left side and one on the right side. The Manaia figure is a common motif in Māori carving and jewelry and represents spiritual guardians or protectors of the people. This part of the design pays homage to past, present and future tribal leaders charged with the responsibility to work together in support of indigenous sovereignty and well-being.
The two Manaia are engaging in 'hongi'. This is the traditional Māori greeting involving the light pressing of noses that acknowledges the sharing of the breath of life. Together, the two Manaia form one single figurehead looking straight ahead. This represents unity and the vision of the people moving forward.
The outer boarder of the design comprises of Seminole Tribe of Florida and Waikato Tainui Māori patterns that represent the weaving together of two peoples. These traditional patterns also reflect the steadfastness and resilience of indigenous peoples and of the need for our communities to remain vigilant to protect and enhance cultural identity and well-being.

Of particular note, the Seminole patchwork design within the top left and bottom right border symbolizes the four directions and acknowledges the various communities of the Seminole Tribe of Florida and their support of the AIAC. The Māori 'Niho Taniwha' pattern (black triangles) on the bottom left and top right of the boarder represents 'water guardians' and pays homage to the Alligator Wrestler.