EVENTS
Introducing a special Community Art activity that will accompany the Earth Day Event at the Ah-Tah-Thi-Ki Museum and Okalee Indian Village.
First Annual Recycled Art Contest Entry and Exhibit
Within the Earth Day event a special art exhibit will display creative works by talented and inspiring Seminole artists. This competition challenges the artist to utilize materials that are repurposed or recycled.
Tribal members that are interested in participating, please fill out this entry form below. Select from Big Cypress or Hollywood for your display and drop off location.
Deadlines:
April 18 in Big Cypress & April 20 in Hollywood
Enter Contest Below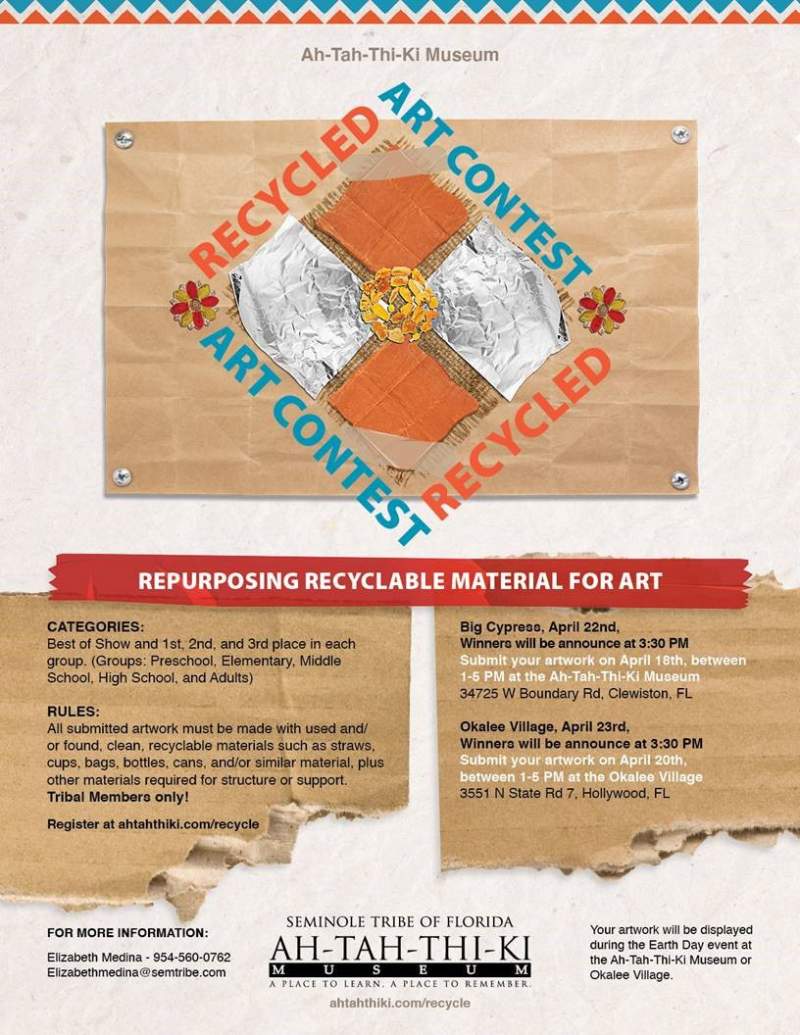 Enter Contest Here
Earth Day Event Press Release
HOLLYWOOD, Fla. (April 4, 2022) – The Seminole Tribe of Florida announced today it will stage two events during the weekend of April 22-23 to celebrate Earth Day.
The Earth Day festivities will commence at the Ah-Tah-Thi-Ki Museum on the Big Cypress Reservation on Friday, April 22 (10 a.m. to 4 p.m.), before moving to the Seminole Okalee Indian Village in Hollywood on Saturday, April 23 (10 a.m. to 4 p.m.).
Free to the public, both events will feature live Seminole Native musical performances by Rez Jamz (https://seminoletribune.org/rez-jamz-spotlights-tribal-talent/) and flute music by Gordon Wareham. Additionally, there will be exhibits, a poetry workshop by the Florida Indigenous Writers Group, yoga, environment presentations, Seminole Tribal craft and food vendors, and activity tables.
The exhibits will focus on the Seminoles' relationship with their natural environment and be centered on three distinct conversations: the Seminoles' views on nature, how they utilize their natural environment, as well as their various efforts to preserve the Florida Everglades.
For those looking to tour the Ah-Tah-Thi-Ki Museum during the event on April 22, there will be a discounted admission fee of $5 per person, with children 12 and under free. Admission to the Seminole Okalee Indian Village event on April 23 is free.
"The Seminole Tribe's Climate Resiliency Program is proud to partner with the museum on the 2022 Earth Day events," said Jill Horwitz, Climate Resiliency Officer. "Seminole Tribal members have helped create a new definition of 'Resilience' that includes 'Strength, Community and Survival.' The Earth Day events will showcase the Tribe's environmental stewardship and commitment to a sustainable future."
Every year on April 22, Earth Day marks the anniversary of the birth of the modern environmental movement in 1970. Earth Day is widely recognized as the largest secular observance in the world, marked by more than a billion people every year as a day of action to change human behavior and create global, national, and local policy changes.
According to earthday.org, Earth Day aims to "build the world's largest environmental movement to drive transformative change for people and the planet." The movement's mission is "to diversify, educate and activate the environmental movement worldwide."
About Ah-Tah-Thi-Ki Museum
The Ah-Tah-Thi-Ki Museum opened in 1997 and is owned and operated by the Seminole Tribe of Florida. Situated in the Everglades on a 66-acre cypress dome on the Big Cypress Seminole Indian Reservation, the museum offers more than 5,000 square feet of gallery space. Exhibits feature rare artifacts and lifelike dioramas that depict Seminole life at the turn of the century. In 2009, the Museum became the first tribally governed museum to be accredited by the American Association of Museums. For more information, visit www.ahtahthiki.com and follow the museum on Facebook, Twitter, and Instagram. Ah-Tah-Thi-Ki Museum is located at 34725 W. Boundary Road, Clewiston, Florida.
About Seminole Okalee Indian Village
Seminole Okalee Indian Village introduces visitors to the unconquered spirit of the Seminole Indians in the heart of the Hollywood Seminole Indian reservation. This historic landmark features special Ah-Tah-Thi-Ki Museum exhibits within the gallery. The Seminole Village and Culture Camp on property features lush outdoor landscapes and meeting spaces adorned with Seminole thatch roof chickees. Seminole Okalee Indian Village is located at 3551 N. State Road 7, Hollywood, Florida.