Did you know Ah-Tah-Thi-Ki means "a place to learn, a place to remember?" authentic cultural and historical exhibits of the Seminole Tribe of Florida are our focus that can be enjoyed nearly everyday of the year.
Our vision is to inspire our Communities and Visitors through Seminole Tribal Stories, in turn, we have created a number of events and programing that helps tell our story. We hope that you will join us throughout the year so we may share the Seminole Tribe's rich history and culture with you and your family.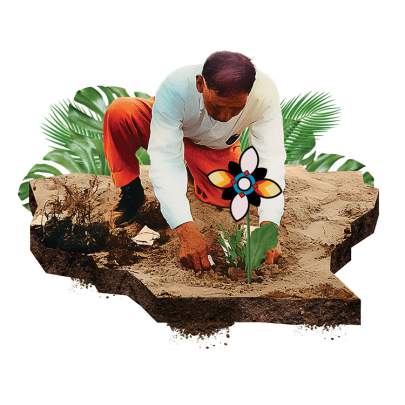 Earth Day the Native Way
Tuesday, April 18, 2023 9am - 6pm at Okalee Village
Thursday April 20, 2023, 10a-4pm and Ah-Tah-Thi-Ki Museum
Join us for 2 Free Events!
Enjoy Earth Day the Native way! Join the Seminole Tribe of Florida's Ah-Tah-Thi-Ki Museum and the Seminole Okalee Indian Village and Museum as we showcase live performances from Barry Big Mountain and the Iron Horse Dancers that will perform songs and dances of the American Indian, Seminole Native musical performances by Rez Jamz.
In addition to our native craft and tribal food vendors, there will be several special non-profit organizations joining the celebration including Museum of Discovery and Science, History Miami Museum, Hendry Glades Audubon, Tree Amigos Growers, Florida Trail Association, and NASA that will be sharing specialized Earth friendly activities, educational workshops, gardening tips, and tricks from experts with very green thumbs!
The day will be filled with Guided Nature Walks, Guided Bird Watch Walks, Craft Activities, and environmental presentations. Surround yourself in nature and Seminole culture and enjoy Earth Day the Native Way!
[For more information]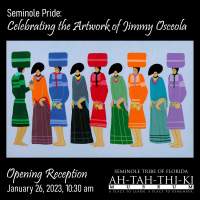 January through April
Seminole Pride: Celebrating The Art Work of Jimmy Osceola
This powerful and transformational collection exhibits Jimmy Osceola's large and colorful persona and culturally significant artwork. His paintings continue to inspire and tell the story of the Seminole people. Jimmy Osceola was a self-taught artist who developed his own unique style. He felt it was important to show the Seminole people surviving, developing their culture and loving each other. He hoped that his art would help the younger generation to visualize how their people developed to what it is today and to remember the Seminole cultural history. "We need to show that we're still here and alive and surviving." - Seminole Artist, Jimmy Osceola