It's Not a Costume: Modern Seminole Patchwork was originally on exhibit December 2014-November 2015. It was co-curated by artist Jessica Osceola and former Curator of Exhibits Rebecca Fell
Exhibited are examples of modern Seminole patchwork. They are not, necessarily, items that would grace the latest edition of Seminole Vogue (if there was such a thing). Rather they are clothes that represent a cut, design, and silhouette that is commonly seen and worn every day. We wear our patchwork to the office, parties, graduations, weddings, and when working out in the field. Some are created for contests. Like most clothing, seamstresses have their whims and fancies – some of which become the latest trend.
Many patchwork designs have names. The creator of the patchwork may take personal meaning from a particular design or the combination of designs in, say, a skirt. Certain designs tend to be worn by people in a particular clan or family; other designs are used often and universally. Among Seminoles, creating a version of someone else's design is frequently seen as a form of flattery. Generally speaking, a patchwork piece of clothing does not tell a story nor does it symbolize something sacred to Seminoles.
Where meaning in patchwork comes from is in a sense of history and pride. Patchwork is integral to the identity of the Seminoles. Unlike costumes worn by other cultural representatives – for example, the dresses of Irish Step Dancers – patchwork is worn as everyday clothing. It is not a costume donned solely during holidays or public displays. Outfits meant for more special events are made with practical considerations. For most Seminoles, patchwork clothing is hung in the closet with all the other solid foundation pieces of a good wardrobe.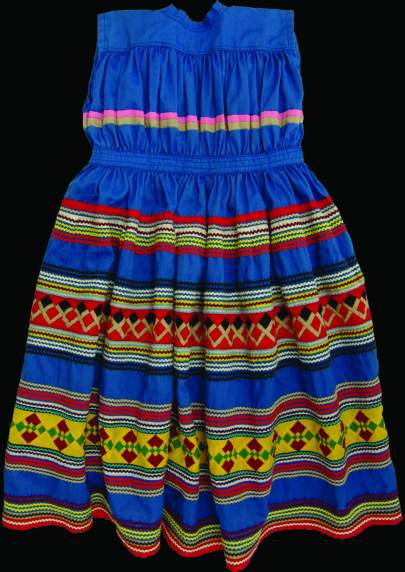 Navigate below to discover more about Seminole patchwork.